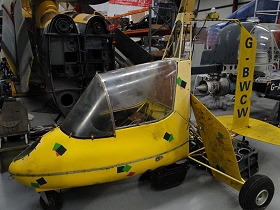 A single-seat Barnett J4B gyroplane, G-BWCW, PFA s/n G/14-1256, donated by Mike and Nick Smart, was delivered to The Museum, from Farley Farm Airstrip, near Winchester in Hampshire, by John Phillips on 28th October 2015.
Amateur built, by Stephen Kirkby, G-BWCW was first registered in May 1995 but was de-registered in March 2005 and permanently withdrawn from use. It had been parked at Farley Farm for several years.
No engine or propeller remained installed in G-BWCW on acquisition but it is believed to have been originally powered by a 100hp 4-cylinder Lycoming engine.
Designed by Jerry Barnett the single-seat J4B was marketed by Barnett Rotorcraft from 1986 as a kit, or as plans, for home building. Other versions included the BRC540, first flown in 1998 (two seats side-by-side) and J4B2 (two seats in tandem and fully enclosed). A J4B2, piloted by Ron Merkle in 1989, holds a coast-to-coast speed record for gyroplanes in the United States.
More than 60 Barnett gyroplanes have been built and registered worldwide, though most remained in North America. Jerry Barnett died in 2009, aged 82.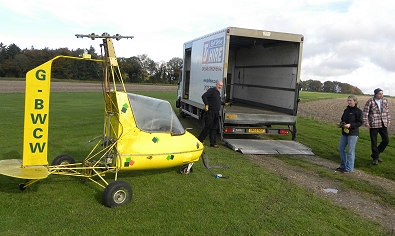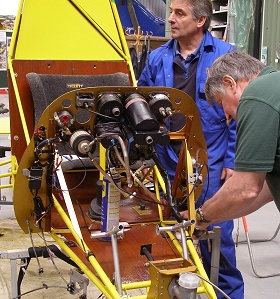 In January 2016 Steve and Paul started work to restore
G-BWCW to a condition in which it could be put on display.

The airframe is constructed from steel and aluminium tubing which was showing signs of corrosion following its long exposure to the weather. The fibreglass cockpit pod had withstood the elements well but needed cleaning and repainting. The bonded and riveted aluminium rotor blades had been stored separately but were showing corrosion in spite of having been painted, while the rotor head was badly corroded and had become structurally unsound. The blades were cleared of corrosion but the head was replaced by a new replica item produced in the Museum's machine shop.

The wooden floor and panels remained in good condition but were all thoroughly cleaned and varnished. G-BWCW went on public display at The Museum on 24th August 2016.